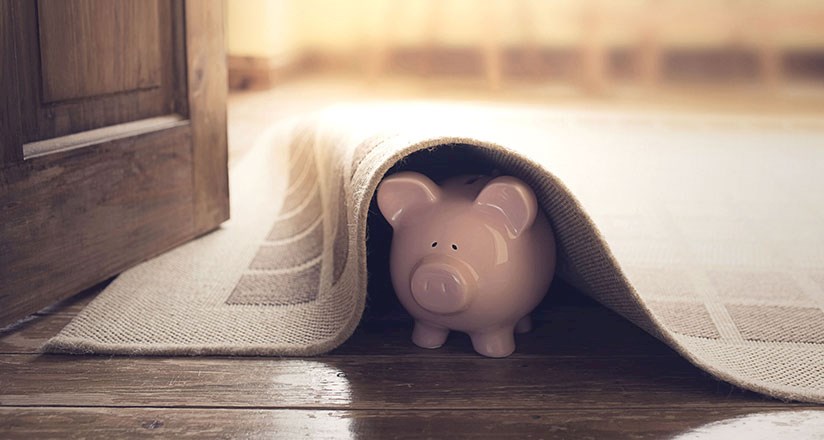 Information about rent and payments.
Paying your rent.
You pay your rent monthly and in advance. Payment is due on the last weekday of the month. If you have not received a rent slip, you are still obliged to pay the rent on time.

Your payment of the rent will be registered with us on the date that your bank has deposit the money into our account. Contact your bank for details if you are unsure about when you need to carry out your payment for it to be delivered to us on time.

Always try to use the payment information that you received from us. You get a new and unique OCR number each month.

Payment of rent from a Swedish bank account should be directed to our Bankgiro number 602-9797. Your OCR number, amount and due date shall be indicated.

You will get your rent slip (web slip) each month on My Pages/Rent notes/invoices. It has all the information you need for payment. If for some reason you have not received your rent slip and if you are not able to contact us, please use your last OCR number for payment.

If you wish to pay in advance, you can either deposit a larger amount of the rents you wish to pay in one payment, or contact us for web slips. Some debit items (e g individual consumption of electricity and hot water) we can not announce in advance, but then you can pay an amount equal to your normal consumption, and we will make an adjustment on your next slip.

If you sublet your apartment you are still obliged to ensure that the rent is paid on time.
What happens if you do not pay the rent on time?
A late paid rent means that you get a collection claim from Intrum which is the collection company SGS cooperates with. With a debt collection claim, there is currently SEK 180 as well as interest that is payable from the due date until payment is made. If the rent remains unpaid, it will incur additional costs for you and may also mean that your opportunities to change or apply for housing within SGS will deteriorate or your rental agreement will be terminated. Our policy is that you should have paid the rent in time during the last 6 months in order to search or change housing.
NOTE!
If a minor debt should accur when you pay your rent due to exchange rate differences you do not need to make an extra payment immediately. Instead, the debt is automatically moved to the next month's rent payment.
Annual rental negotiation - what does it mean?
Rental negotiations are something that all property owners are engaged in every year. SGS Studentbostäder negotiates rent levels with Hyresgästföreningen Region Västra Sverige (HGF). HGF is representant for represents you as a tenant. As soon as the negotiations have begun, usually in November each year, we inform about it on the website. When the negotiations are completed, this may mean that we raise the rents or that there will be no rent increase at all. We will notify the negotiation result on the website and on your payment slip.

NOTE! If you live in one of our rented properties, it is the property owner who negotiates the rent. Therefore, there may be a difference in the negotiation result / level of any increase.
Bank giro service.
Payment of rent from a Swedish bank account shall be made to our Bankgiro number 602-9797. Your OCR number, amount and due date shall be indicated.
Payment by electronic invoice.
You can get your rent on an e-invoice sent directly to your internet banking. All payment details are then already completed and you approve the e-invoice before payment. The service is free. Many banks also offer automatic payment on the due date and a message by SMS or email when a new e-invoice is sent to your Internet bank.If you are not already registered for e-invoicing with your bank, you must arrange it. You should then register that you want to use SGS Studentbostäder as the recipient of your e-invoices. To pay the rent with an e-invoice it is required that you are a customer (the person who signed the contract) with us. You should also have a Swedish personal identity that you have notified us.On application for e-invoice, please quote your item number. The item number can be found on your rental slip or contract.
NOTE! If you previously have had an electronic invoice you must unregister as an e-invoice customer at your bank before you make a new application.
Rent payment from abroad.
The rent is paid to the SGS Studentbostäder's bank account at Handelsbanken.
SGS bank: Handelsbanken, Drottninggatan 36, S-404 39, Göteborg
Number of the SGS' bank account: 6691-635 283 468
BIC/SWIFT: HANDSESS
IBAN NO: SE 786 000 000 00 00 635 283 468
Recipient of payment: SGS Studentbostäder, Kaserntorget 11, SE-411 18 Göteborg
Use the BIC and IBAN for safe money transfers from the EU countries. Students from outside Europe should transfer the money to the SGS' bank account.
It is also possible to use the SEPA credit transfer and pay in Euro. Use BIC/Swift HANDSESS. Please round up the amount so that it corresponds to the amount in SEK.
Refer to the OCR number on the payment and write your own name as the sender so that we can identify the payment. We can not register unidentified payments. You find the OCR number on the SGS website for Chalmers students, under My pages - The rent, when the flat is booked for you.
Save the receipt or a draft of Internet payment and bring it with you on arrival, if you paid only recently.
SGS Studentbostäder/ SGS Student Housing Foundation
Tel: +46 31 333 63 00
E-mail: SGS Customer Service
Housing allowance.
Students are eligible for housing allowance. If you need proof of your rent, use your last rental slip. See www.forsakringskassan.se for further information.
Cancellation.
The notice period is stated on your rental agreement. It is one calender month for single rooms with 10-months rent and two calendar months for other apartment types.
The notice period is counted from the next turn of the month and the notice should be received by SGS Customer Service at the latest on the last weekdays before the start of the notice period.
Giving notice can in most cases be made through My pages. When the notice is signed and ready from you there is a link to a cancellation confirmation on a PDF. There are some exceptions and in these cases, you must submit a written cancellation notice to SGS Customer Service.
If the new tenant would like to see the accommodation you are required to participate in the display of the dwelling. Offers will be sent to several people at the same time.
Tenants who have a rental agreement with Chalmers or Göteborgs universitet have different times of notice. See your housing contract.
10 month rent period.
All single rooms and one room with a kitchen cabinet have a 10-month rent. The exception is a room with a kitchen cabinet on Dr Forselius Backe and Kastanjebacken, which is designated as an apartment and thus has a 12-month rent.

10-month rent means that the annual rent is divided into 10 instead of 12 payment periods.

If you live in a room with a 10-month rent and move to another room/room with a kitchen cabinet, you may retain the same conditions as in the previous rental agreement.

If you move into a single room/single room with kitchenette with 10-month rent, you have to wait 3 months before you can apply for housing again, but you can keep your queue days after the end of the suspension period.

If, on the other hand, you have received an apartment with 12 months' rent, your queue time has been used up. After the suspension period (3 months) ends, you can apply for new housing, then the date of moving into the housing becomes your application date.