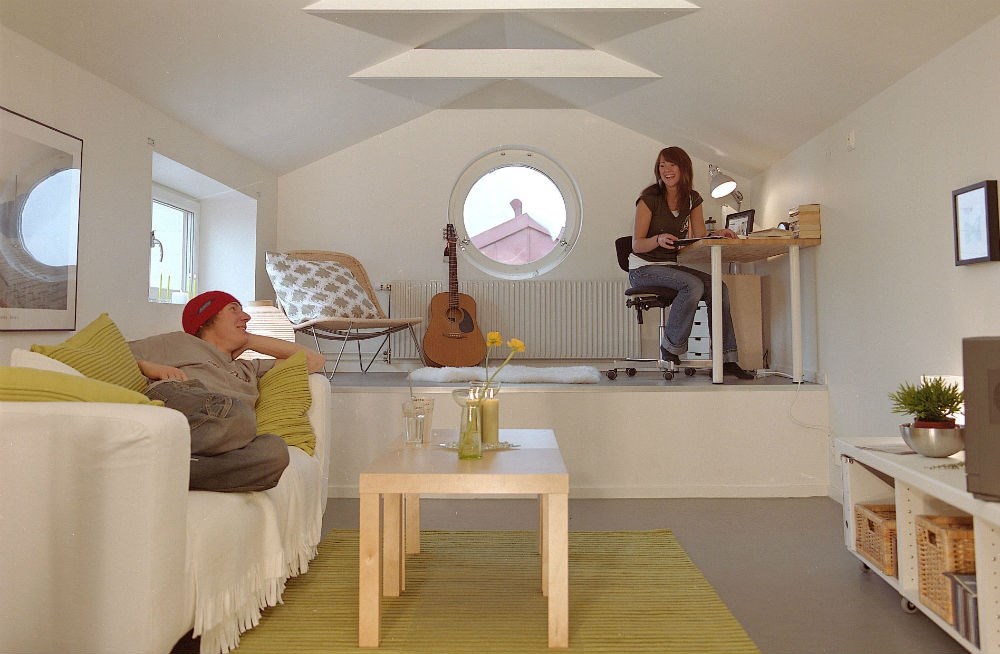 The apartment.
Indoor temperature.
The heat in our homes is balanced and should be between 19-20 degrees. Quick tips if you experience that it is cold indoors. If the temperature drops below the recommended contact SGS Customer Service.
If you are affected by a power cut.
Before you contact the property services, first check if it is a fuse or a circuit breaker in your fusebox that has blown. Unplug the equipment that may have caused the power failure before resetting fuse or circuit breaker. There is a risk that you have to pay for the emergency turn-out if you have not taken the above measures first. During a power cut, it is good if you first check if it is only your apartment that is affected, or if the whole building is dark. Check with your neighbours.
If you have lost the key or locked yourself out.
Should you lose a key to the flat or a communal kitchen we have to change the lock and you will be charged for this. If you lose a key to other and communal spaces/premises you can buy a new key from SGS Customer Service. You are not allowed to make copies of keys, since our lock system has been blocked.
If you locked yourself out SGS Customer Service will help you during opening hours. You will be asked to show identification and will be charged a service fee for the unlocking of your door. During nights and holidays, you call the emergency number which apply for your area listed above under the heading "Complaints", and pay an emergency locksmith to open your door.
Wear and damage.
Repairs carried out because of misuse or damage must be paid for by tenants. This could be damage such as cracked windowpanes, scratched doors, cracked washbasins or damaged wallpaper. To avoid too many holes in walls we recommend that you use special picture-hooks.
Drilling holes and putting up things.
Before you find the ideal furnishings, you might have to move a couple of times, so think carefully before you start drilling holes in walls and ceilings.

Remember that you could be liable to pay when you move out if you cause damage which is not classed as normal wear.
The principle is that tenants who move out must leave the flat in an acceptable condition. Consideration is paid to how many unsightly holes and marks you have left during your time and how well you have restored things after you.

Ask our advice before you act.

Do not make holes or put nails into the following:
Tiles and tile joints
Floors, doors, cupboards, cupboard doors, window frames, window arches and other woodwork.
Be careful if you drill into ceilings that you do not hit electrical wiring. Do not drill into the wall where the electrical centre is situated.
Light objects:

Use white so-called concrete hooks on concrete walls and thin nails in plaster walls.
Do not use tape or sticking mass.

Heavier objects:

If you have to drill a hole to hang up a heavier object, you can cut a cross on the wallpaper with a sharp knife and fold back the corners before you drill. Then it's easier to restore before you leave.

In plasterboard walls you should use removable plaster plugs. In plaster walls between flats there are double plasterboards. In other cases, single plasterboard is used.
In concrete walls use plastic expander plugs.
Carrying out your own work in the flat.
You may paint and wallpaper the flat yourself. But if you choose colours or wallpapers that are too extreme, you may be liable to pay when you move out.
Do not paint cupboard doors, doors or woodwork.
You my lay fitted carpets if they are laid in a manner that does not damage the flooring underneath.
If you carry out work in the flat, it must be done in a professional manner. For example, painting over wallpaper is not professional. You may be liable to pay when you move out.
You must not change the original design of the flat. It is not permissible to remove a wall or build an arch between two rooms.
You must not lay new floors.
Ask SGS Customer Service for advice before you act.
Dishwasher in the apartment.
If you are thinking of getting a dishwasher, always contact SGS Customer Service first. We'll help you with advice and information.
Incorrectly installed dishwashers often cause damage, mostly water damage but also life-threatening electrical installations occur. As a tenant, you are liable for damages that may occur and you should have a home insurance covering such damages. Dishwashers must be approved by the Swedish Water and Wastewater Association and may only be installed by authorized specialists.
Some kitchens are prepared for dishwasher while others require more extensive measures. Many kitchens are directly unsuitable for dishwashers. It is always the tenant who has installed the dishwasher that is responsible if any damage occur when the procedure is carried out. Since the responsibility for such damage cannot be transferred to the next tenant, the procedure must be restored when you move out. You may be required to pay for the restoration.
Store rooms.
Most flats have their own storeroom while tenants in single rooms sharing a kitchen also can share a storeroom. Do not store valuables there because of the risk of theft. If you have a home insurance this will not cover theft or fire. Avoid placing objects on the floor. At a flood your home insurance might not cover. There are no other storage spaces for furniture available apart from the one which belongs to your home.
Pets.
You are not allowed to keep a pet in your apartment if you live in a single room with shared kitchen. This is mainly out of consideration for allergic persons.
If you live in an apartment with your own kitchen and keep a pet please follow the current rules:
House pets must be exercised outside the housing area.
Keep cats away from playground areas, sandpits etc.