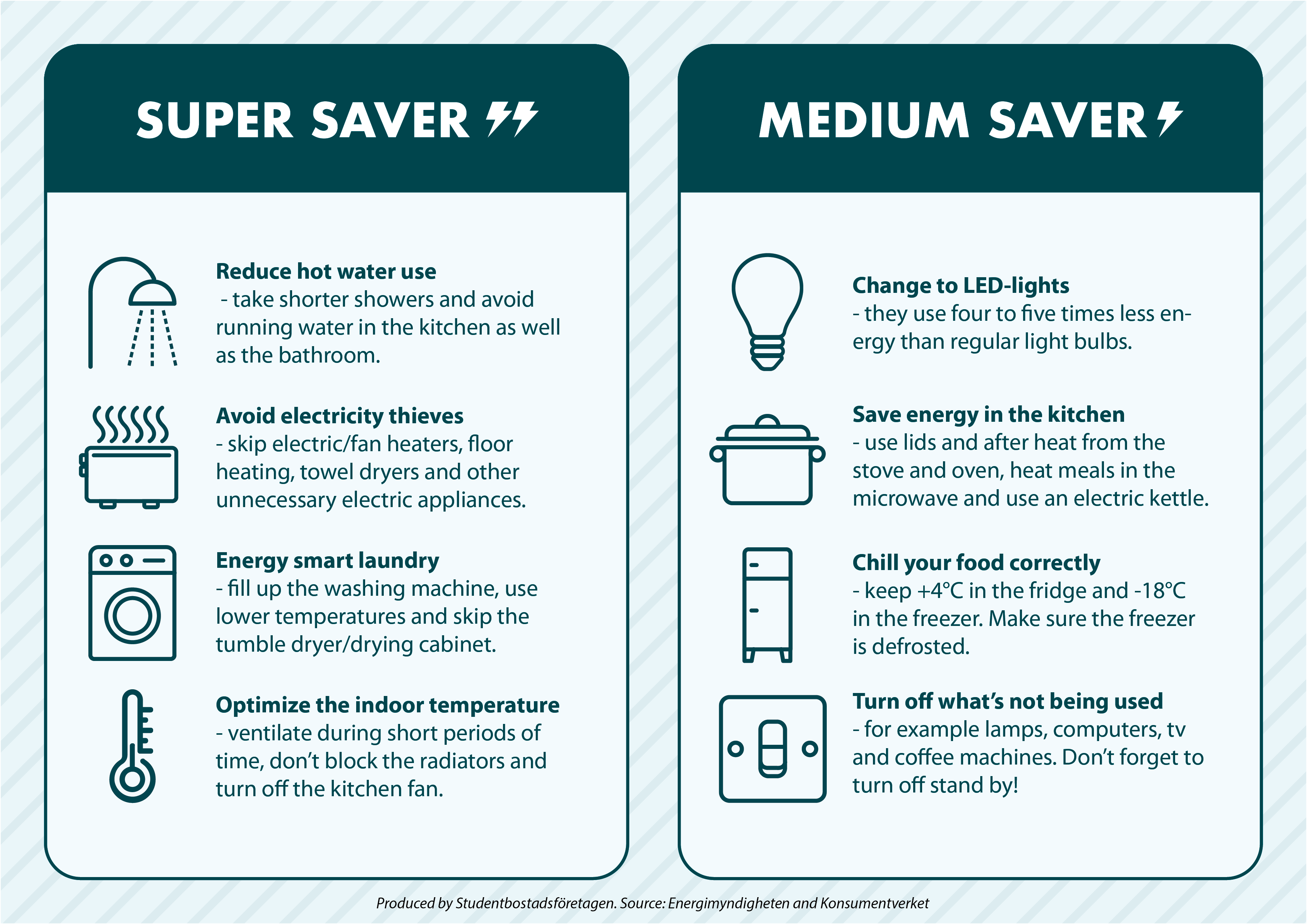 Energy saving tips
The current energy situation in Sweden and the rest of Europe is severe. Electricity prices are high and could rise even further. There is also a risk of electricity shortage at certain hours this coming winter. Joint efforts to reduce our electricity consumption can improve the situation. Below you will find information about the situation, why we should reduce our electricity consumption, and how you can contribute. You can also read more on the
Energy Agency's
website
Why should we save electricity?
The war in Ukraine has had consequences on the Swedish electricity supply. It has resulted in high electricity prices and fewer opportunities for electricity import when needed. To improve the situation, we all need to contribute to reduce our electricity consumption. Listed below are three reasons why:
To reduce the cost of electricity
The high electricity prices are challenging for most people. By reducing your electricity consumption you can reduce your expenses and thus save money. Reduced electricity demand can also have a positive impact on the price in general. When the electricity demand decreases, so do the electricity prices.
To reduce the risk of electricity shortages during winter
When we consume less electricity, or move consumption to times when the overall demand is lower, we reduce the strain on the power grid and thereby lower the risk of power outage caused by imbalance between supply and demand. It is critical that we act now to ensure the best possible conditions for the coming winter, when the situation might become more strained.To show solidarity. Reducing our own electricity consumption will not only contribute to better circumstances for all people in Sweden, but for our neighbouring countries as well. Sweden contributes to the reduction of fossil fuel-based energy demand in the continent by exporting clean electricity based on fossil-free generation.
Please also read our tips on how you can influence your indoor climate and comfort at home.