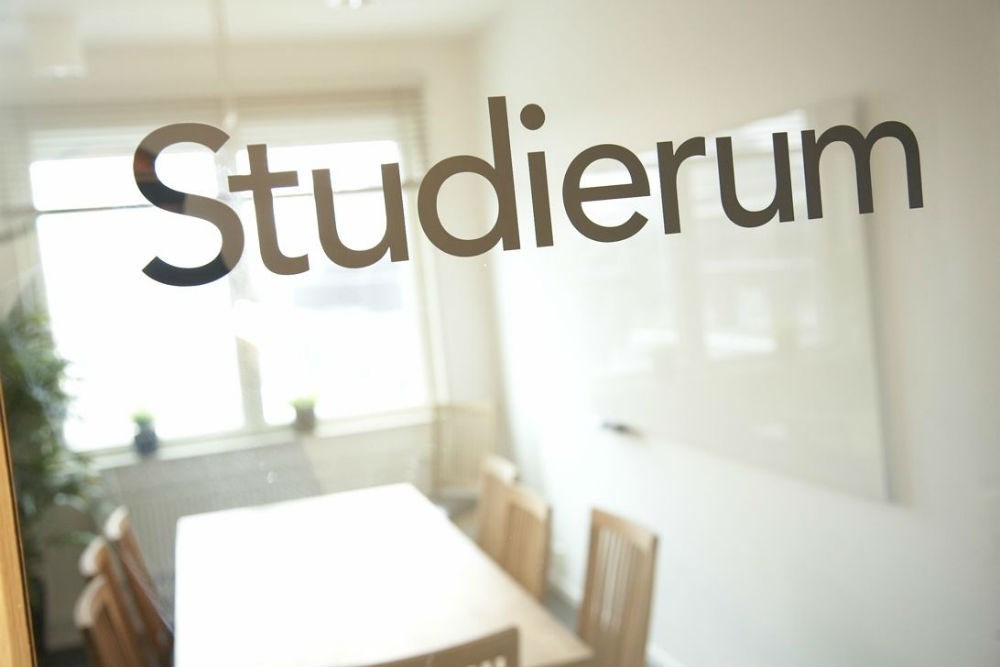 About communal areas, recycling and laundries.
Passage and electronic booking system.
Some of our properties are equipped with an electronic passage system for entrances and other communal spaces and an electronic booking system for the laundries. All passages are being registered and saved for a shorter time. If required, it will enable us to check which person who has entered or which lock washer that was used when making the booking.
Information about fire and smoke detectors.
Generally following applies: In case of fire, call 112, stay in your room and keep your door closed. Never go out in a smoke-filled corridor or staircase! The fire department will help you out. In some rooms there are other information which will apply.
In all our areas smoke detectors are mounted in the apartments.
Communal areas.
All our residential areas have communal premises in the buildings, such as study rooms, exercise rooms, assembly rooms, billiard-rooms etc. In your moving-in information you will find the communal areas which are available where you live and where you could make a booking. Some premises are booked through our
Resident boards/contact committees
.
Cleaning.
Stairwells and laundries are cleaned by a cleaning company once a week.
In general, the shared kitchen is cleaned every two weeks, but deviations occur as the tenants in some properties are responsible for cleaning the kitchens and corridors etc. On the area page, you can see what applies to the property in which you live.
If you live in a property where the shared kitchens are cleaned, the following is carried out:
They wipe the floor, stove and kitchen bench as well as emptied tables in the shared kitchens. All objects in the way should therefore be removed before the cleaning staff arrives. In the stairwell you find information of the cleaning dates. If you have any complaints about the cleaning contact SGS Customer Service. We also make regularly cleaning inspections.
Communal kitchen and kitchen inventories.
Tenants sharing a kitchen are responsible for keeping it nice and tidy. For everyone's well-being please follow the rules and always leave the kitchen clean. Keep the refrigerator, stove and oven clean and check the hood. Don't forget to defrost the freezer regularly. In the beginning of each semester it is a good idea to have kitchen meeting with everybody who is sharing the kitchen, to meet new neighbours and to work out a kitchen rota.
In most of the kitchens the following inventories are included: kitchen table and chairs, curtains, cleaning tools, recycling cupboard with sorting boxes, fridge and freezer, stove and fire detectors. This can however vary somewhat in our areas.
General spaces.
Stairwells, corridors and storages in attic and basement in the properties are also escape routes and to store objects in these areas is forbidden for fire-safety and accident prevention reasons. It is therefore not permitted to park bicycles, place doormats, keep furniture or temporary store personal belongings in these areas. Keeping these areas clear will also facilitate for the cleaning personnel, who will not be hindered by objects in the way. For your own safety we make regular inspections and if there are objects here these will immediately be removed.
Household garbage and recycling.
Much of the garbage that we throw away can be recycled and used again. Therefore, sorting the garbage is an important effort for the environment. It is also included in our environment policy to increase the possibility of source sorting in our housing areas as much as possible.
The garbage should be sorted and taken to the waste chamber where there is room for heavy garbage, household waste and compostable garbage, batteries, bulbs and low-energy bulbs and hazardous waste. Newspapers, clear jars and bottles should be taken to the recycling station.
In the waste chamber you find information of how to sort your garbage.
Laundry.
All SGS tenants have access to a laundry. Book your time on our homepage by logging on to My pages or with your booking cylinder.
The laundry is a communal space shared by you and your neighbours. For the sake of good relations, follow the relevant rules and instructions and leave the laundry clean and tidy.
Please note
Mats must not be washed in the washing machines.
Underwired bras may only be washed in a wash-bag, since most breakdowns in washing machines are caused by these.
Show consideration for your neighbours by not smoking or taking pets into the laundry.
Gothenburg has soft water, why you should use the smallest dosage of washing powder shown on the packet.
Clean the machines and washing powder receptacles
Clean out dust-filters in tumble dryers and drying cupboards each time you use them.
In your moving-in information you find further information about the laundries in your area.